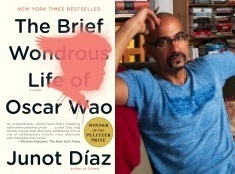 "Developing a strong voice is not easy. Developing a strong voice you have control over is even harder. So we're not going to throw you into this contest-lake without first offering you some attractive, but effective, floaties for your arms. (We got an A in metaphors.) Junot Díaz is going to be offering up his secrets on narrative voice like a leprechaun offers up Lucky Charms. (Okay, A-minus.) He'll be writing a blog post about how best to develop your tone, and he'll be answering your questions on the forums, here.
After you get knowledged by Díaz, your task is to choose one of the following prompts and write your story. Entries must be no more than 1,000 words.
Creating the Voice: Narrative Voice Contest with Junot Díaz
First Person:
Without naming or describing your narrator, write a story in which you make the narrator's age, personality, and philosophy/outlook on life evident through his or her voice.
Second Person:
Write a story about an ordinary day in the life of an extraordinary person, such as the president, supermodel, or a homeless boy. Narrate the story entirely in the second person.
Third Person:
Write a story in which you describe a person using only attributes generally considered negative (for example a character who is usually late, sloppy, and mean), but through the voice of your narrator, make that character likable.