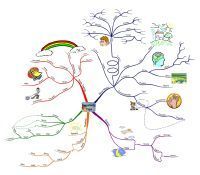 Creative people may be driven to create more and more, to keep fueling a teeming mind. But that can impede creative thinking and creative expression.
Writer Deborah Ward addresses this downside:
"I cannot write when I've got too much on my mind or when I feel stressed or overwhelmed from too much activity. And yet I try to force myself to write in the belief that I will feel better and more relaxed if I do. But I got it the wrong way around. Writing won't make me feel relaxed. Feeling relaxed will make me write."