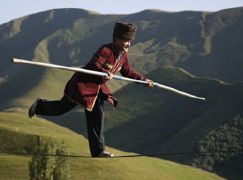 In his book Your Own Worst Enemy: Breaking the Habit of Adult Underachievement [ http://amzn.to/qQyPqo ], psychologist Kenneth W. Christian, PhD talks about styles or patterns of thinking and behavior that we probably developed in school, and that solidify into ruts that can limit our fulfillment, achievement and creativity.
One example is a group of people he calls Extreme Non-Risk-Takers – who "focus totally on minimizing risk in their lives… because they try to avoid situations in which they could possibly fail, they gravitate toward occupations, relationships and activities that do not present serious challenges or reflect their real interests."
I experienced some of that pattern when I failed Organic Chemistry in college, and - in addition to the blow to my self-esteem - considered it a "message" that I was not meant to be a physician. Addled adolescent thinking, more than clear judgment.
[Photo: A man walks the tightrope in a remote mountain village in Russia.] Related post: Adult Underachievement: Kenneth Christian, Ph.D. on living up to the "gifted" label – or not
http://highability.org/72/
Quotes from my book "Developing Multiple Talents: The personal side of creative expression"
http://t.co/KqYN0ORZ