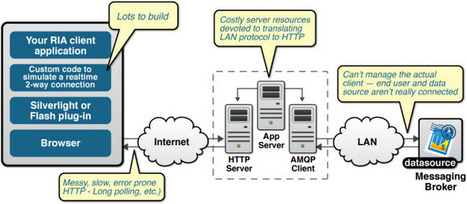 Lately there has been a lot of buzz around HTML5 Web Sockets, which defines a full-duplex communication channel that operates through a single socket over the Web. HTML5 Web Sockets is not just another incremental enhancement to conventional HTTP communications; it represents a colossal advance, especially for real-time, event-driven web applications.
HTML5 Web Sockets provides such a dramatic improvement from the old, convoluted "hacks" that are used to simulate a full-duplex connection in a browser that it prompted Google's Ian Hickson—the HTML5 specification lead—to say:
"Reducing kilobytes of data to 2 bytes…and reducing latency from 150ms to 50ms is far more than marginal. In fact, these two factors alone are enough to make Web Sockets seriously interesting to Google."
Let's take a look at how HTML5 Web Sockets can offer such an incredibly dramatic reduction of unnecessary network traffic and latency by comparing it to conventional solutions.