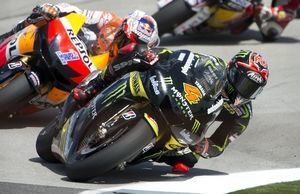 NASCAR's Brickyard 400 weekend at Indianapolis Motor Speedway will continue for years to come. The MotoGP race might not.
That's the word from first-year Hulman & Co. CEO Mark Miles, whose job it is to deliver the best return on investment for the owners of the company that employs him. Whether that includes the motorcycleevent beyond this year's Aug. 16-18 event remains to be seen.
Miles said the contract runs through 2014, but IMS has a brief window after this year's event to opt out.
For the rest click HERE