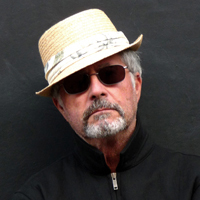 Many of you know of Guy Webster, because he has an excellent motorcycle collection in Ojai CA and has been really generous with his bikes over the years - lending them to shows and exhibits like the Art of the Motorcycle. But what he is REALLY famous for is his photography and tomorrow there is a rare opportunity to hear him speak on the topic.
"One of the early innovators of rock and roll photography, Guy Webster has spanned the worlds of music, film and politics in his 50-year career. His hundreds of album covers have included the Rolling Stones, the Mamas and the Papas, the Beach Boys, the Doors and Simon & Garfunkel.
Photographer for the infamous Monterey Pop Concert his images were used for the festival booklet and include concert photos of Janis Joplin, Jimi Hendrix, The Who and many others. He has photographed film legends such as Rita Hayworth, Dean Martin and Bob Hope as well as countless luminaries and celebrities including Igor Stravinsky, Allen Ginsburg and Truman Capote for hundreds of worldwide magazines."
Tomorrow at 9:29am Pacific Time 150 tickets will be given away to his Sept 13th Los Angeles lecture. They will go fast (like a rock star concert because Guy really IS like that).
We thought we would share this with the Ducati Community because while so many of us know Guy in the Motorcycle world, he rarely speaks of the photos and when he does the stories are, well, just incredible I can assure you......
To get tickets go to this link: http://iris0913.eventbrite.com/
If you will be in LA on Sept 13th, the show is at:
2000 Avenue of the Stars
Suite 10
Los Angeles, 90067
For more info click HERE