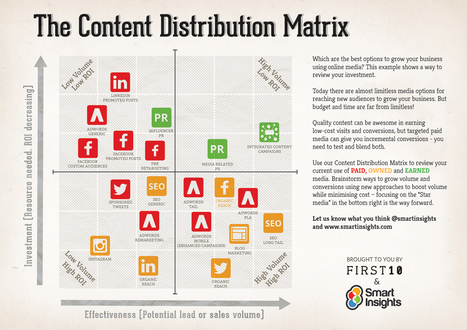 Introducing a new tool to help marketers review and improve the best options for promoting content
If you're a regular reader of Smart Insights, it's likely you've seen, or even better, used our Content Marketing Matrix developed with First10. It has proved to be a popular infographic since it's not just a nice visual of some interesting 'facts and figures' about marketing, rather it can actually be applied to get better results since it helps businesses brainstorm the best types of content to create as part of their content marketing strategy.
What is the Content Distribution Matrix?
This infographic is aimed at helping marketers to review the effectiveness of different types of Paid, Owned and Earned media to promote or distribute their content in generating site visits, leads or sale compared to the level of investment in applying the media measured as paid media costs or the costs of marketing team members.
Via
Russ Merz, Ph.D.