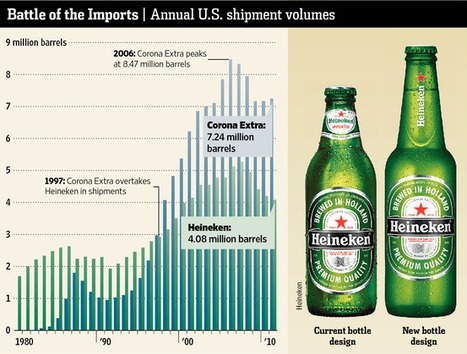 Wall Street Journal
BUSINESS
Updated September 17, 2012, 12:16 p.m. ET
By Mike Esterl
Heineken NV (HEIA.AE +0.29%) is giving its green bottle a face-lift in the U.S., hoping it will help its flagship Dutch lager and one-time leading beer import stand tall again after years of market-share losses.
A slimmer green Heineken bottle with a longer neck is arriving this week in New York City bars and restaurants, ahead of a national rollout by the Amsterdam brewer in January. Heineken, the first foreign beer to reach U.S. shores after Prohibition ended in 1933, had long stuck with a squat green bottle.
The world's third-largest brewer by volume also increased the advertising budget of its namesake lager by roughly half in the U.S. last year, and is banking on a marketing lift this fall from James Bond, more known for ordering vodka martinis.
(...)
The new Heineken bottle is 1.25 inches taller than the old bottle, with a longer, narrower neck the brewer believes makes it look more modern. A thumb groove is designed to improve the grip and encourages drinkers to hold the bottle lower down, keeping the beer colder. A strong shoulder aims to convey an air of "masculinity and pride,'' according to Heineken.
"As we are trying to bring a new generation into the brand, we feel this is a tangible way of revitalizing it,'' said Dolf van den Brink, the 39-year-old president of Heineken USA. The beer itself won't change, he added. "Since 1873 we've never touched the recipe.''
--- Comment Designink.nl ---
In The Netherlands, Heineken bottles used to be brown, the green version was for export only. In 2010 the company changed its packaging design from 15 to 5 versions.
Last year, September 2011, Heineken announced a new corporate visual identity.
Yesterday, Heineken announced that also in The Netherlands, the green K2-model (longneck) will replace the old brown model.
Thne new bottle is 3% lighter in weight and was designed in Amsterdam by DOBD, VBAT and the Heineken Branding Team.
Source [Dutch];
http://www.parool.nl/parool/nl/224/BINNENLAND/article/detail/3321381/2012/09/24/Heineken-breekt-met-traditie-bruin-flesje-wordt-groen.dhtml
History/Inspiration - Grolsch
In 2008 SABMillers iconic brand, Grolsch, introduced a new green version of its famous swing-top beer bottle. The bottle was designed by Flex Innovation Lab. The new 2012 design also incorporated a functional 'hand-grip' with embossed logo. The design process was recently aired as part of National Geographic programme "Made in NL'
http://www.design.nl/item/new_bottle_design_for_grolsch
http://natgeotv.com/nl/made-in-nl-dance/over
http://www.youtube.com/watch?v=e9T2NJHL7mU
Via
Niels Biersteker