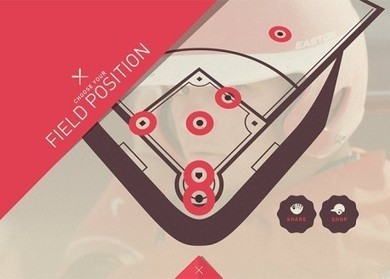 Fantastic Video Website Designs for Inspiration. Selection of Awwwards winning video websites. Video is widely used in today's web design. Video is one of the most powerful tools of visual communication.

Video Online is Harder Than It Looks
These award winning video demonstrate a clear truth - creating a great video experience online is TOUGH. My favorite of all of these examples is Dick's Sporting Goods baseball videos. I like the visual storytelling of the Dick's videos.

I have a real feel for "being there" with Dick's. Problem is as Dicks makes the turn toward home and starts down the positions they lose me. They might lose a die hard baseball person less, but Dick's demonstrates some of video marketing's strengths and liabilities:

Strengths
* Can tell a complex story simply and quickly.
* Holds attention better than reading.
* Creates more hooks to wind a story around.

Weaknesses
* Easy to lose your way from a script / production / website integration standpoint (watch that Keecker and tell me if you don't get a little creeped out too).
* We watch a lot of video, so expectations are HIGH for both production quality and story strength.
* Video floats on top of websites more than it is actually part of them.

That last bullet in weaknesses is where the real design stress exists. How do we move back and forth between website and video without losing attention, being confusing or both losing attention and being confusing? Videos tend to dominate webpages.

When I was Director of Ecommerce we finally, after many tries, found a product page video size, style and length that significantly contributed to conversion. Problem is WE created those videos.

As we move into the User Generated Content social Media world of tomorrow we will need to create less and curate more. There is a way to create a web framework to support UGC videos and as soon as I see it I will be sure to share it (if you've seen a video website you think works WITH instead of against its videos please share).