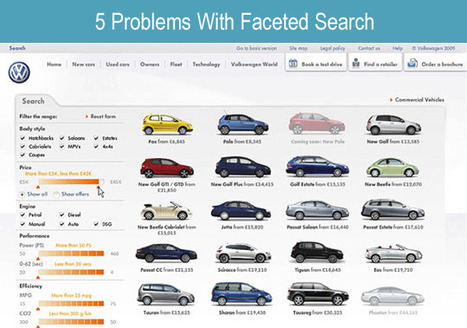 5 Problems With Faceted Search
Faceted search, those data sorting criteria you see on so many websites (on the left in the VW example) creates several web design issues including:

* Infinite Pages that can destroy SEO.
* Too Much Choice.
* Merchandising hierarchy based on attributes and sort.
* Data or engineering presentation that can overwhelm stories.
* Power moves from merchandises and marketers to tech.

Infinite Pages & SEO
Smart move is to robot.txt faceted search pages. Sending thousands of pages without social shares or much content to search spiders in this day and time is not a good idea. Faceted search tends to produce low social value pages when used by itself.

Faceted search can be used in combination with category page copy and social share widgets (highly recommended). Even in combination we suggest prioritizing pages that matter and sharing those with the spider while limit access to the infinite combinations even simple faceted search installs create.

Too Much Choice
Choice is a paradox one of my favorite books (Paradox of Choice by Schwartz) proclaims. Because you CAN do something doesn't mean its the right thing to do. Faceted search without help can quickly become overwhelming. Help can take many forms including:

* Top 10 Lists.
* Best Seller or Most Viewed badges, icons and ribbons.
* Sharing analytics such as people who bought x also buy y.

Cut down choice with feedback loops. Move your analytics closer to the "front" and your design and merchandising becomes less overwhelming.

Merchandising
Faceted search can make a merchandising team lazy. As we discussed in the previous Too Much Choice segment finding ways to curate, combine and merchandising within faceted search results based on analytics, curation and social preference creates collaboration between faceted search and your merchandisers. A website's merchandising team should be one of the most creative a powerful groups Don't let your merchandising team think your site merchandises itself (they never do).

DATA not EMOTION
We buy with emotion and justify with logic my P&G boss taught me a lifetime ago. The web is awash in DATA and we have a tendency to "widgetize" the emotionally resonate stories OUT of our websites thanks to tactics such as faceted search. If you use faceted search your team needs to find ways to build emotion IN. Testimonial teases, arresting images and snippets that lead up a ladder to a story are a few of the ways you can add emotion into a faceted search installation.

Power To TECH not PEOPLE
Curagami, our Durham, NC startup, works in an area with many startups. Startups tend to love and focus on the tech they create. We BUY PEOPLE not TECH. We trust PEOPLE not TECH so any faceted search installation needs a strong about page and a sense of who the team is behind the search results or trust is blown and the site riffs itself to itself. Finding ways to tell YOUR story inside a faceted search installation is a CSF (Critical Success Factor).