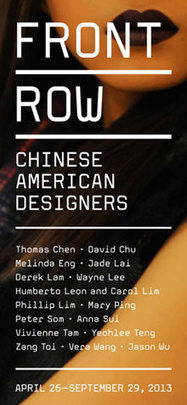 New York | 26.04.2013 - 29.09.2013
"Front Row traces and celebrates the rise of Chinese American designers who decided to make their marks in New York. In the 1980s, designers such as Anna Sui, Yeohlee Teng, Vera Wang and Vivienne Tam emerged in the New York fashion scene just as the city was transforming its identity from a garment center into one of the fashion capitals of the world. Curiously, the
growth of New York's Chinatown, the preponderance of Chinese manufacturers (tailors and seamstresses) in the city's garment district,and the increased outsourcing of garment manufacturing to China, occurred alongside the rapid growth of fashion's creative industries and a broader shift towards creative driven production in New York.
(...)
This exhibition, guest-curated by designer Mary Ping, features the unique visions of 16 designers amidst a larger narrative of social and cultural forces that accentuated and cultivated this group's rise."