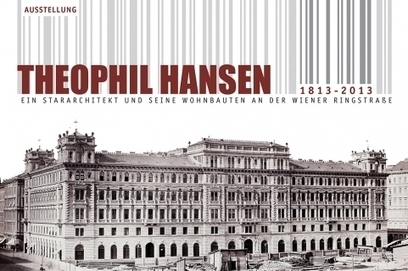 Viena | 14.05.2013 - 17.08.2013
"On display in the exhibition will be sketches and design drawings, plans, photos, furniture, and arts-and-crafts objects from numerous Austrian and international lenders. Born 1813 in Copenhagen, Theophil Hansen was one of the architects who had a lasting formative influence on the Vienna cityscape in the second half of the nineteenth century. The removal of the old city fortifications and the building of the Ringstrasse—signaling Vienna's development into a modern metropolis and of the rise of the bourgeoisie—provided opportunity for Hansen to design and plan some of the most prominent prestige buildings of the imperial capital and residence city.
The goal was to create a gesamtkunstwerk to give visible expression to the new social conditions—this being a parallel to Otto Wagner's later work, and even to Wagner's pupils and the housing projects of Red Vienna. The exhibition thus focuses on Hansen's residential buildings, including his public buildings only in so far as they contribute to an understanding of the cultural-historical—and immanently political—significance of these buildings."