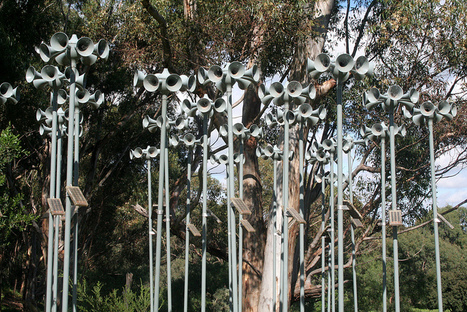 "Meta-Diva" by Nigel Helyer.
Installed on the Werribee Park Mansion Sculpture Walk.
Helen Lemprierie National Sculpture Award Winner for 2002.
The official explenation is -
"Aluminium, digital electronics, solar power
30 units: dimensions variable
Meta-Diva is an environmental sound sculpture, designed for installation in a wetlands site. The work consists of a grouping of thirty individual units, each incorporating a solar-powered digital audio 'voice' that emulates an element of the natural soundscape. Each unit contains a miniature digital audio chip, coupled with a digital timer; the timers are set individually so that each of the thirty units has a unique time signature. Each audio chip contains a short sample of a sound from the natural world: birdsong, insect song or frog voices. The combination of multiple sound sources, individual time signatures and the fluctuations of the solar power supply gives the soundscape an uncannily natural presence. Technically, this is a type of emergent behaviour in which, while we might recognize the occasional repetition of an individual sound, the overall soundscape is in fact a mix of potentially infinite variety – somewhat akin to the always familiar, but never-repeating, sounds of a creek. In reality, the soundscape blends so seamlessly with the natural environment that it is quite difficult to distinguish the artificial from the natural.