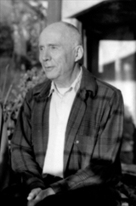 Only a handful of true spiritual elders come along in each generation. With more than two million books in print in thirty countries on five continents, honored and respected Jungian analyst Robert A. Johnson has been one of the most influential interpreters of Jungian psychology in our time, presenting Carl Jung's rich but complex theories with simple elegance and grace. His term "inner work" has become part of the vocabulary with which serious seekers understand themselves and their life's journey.
Robert's books are known and loved for their beautiful retellings of timeless myths and folktales, as well as for their deep wisdom and profound insight.
Robert has been pursuing inner work since a near-death experience at the age of eleven. The tragic loss of a leg after being hit by an automobile provided his first glimpse of the Golden World, a realm that exists just beyond ordinary consciousness. Like Parsifal in the legendary myth of...