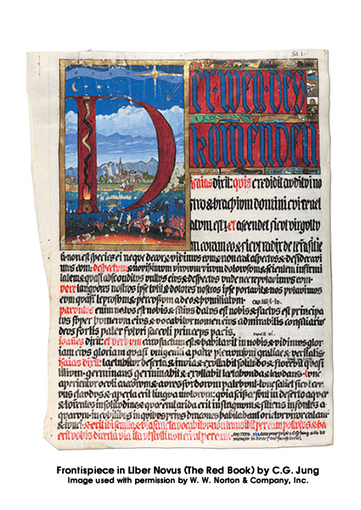 C.G. Jung opens his Liber Novus (The Red Book) with several elements: an elaborately painted initial, "Der Weg des Kommenden" (The Way That is to Come), three calligraphic script passages in Latin from the biblical book of Isaiah, and one from the Gospel According to John.
This material fills the entire first page and closes in Latin with, "Written by C.G. Jung with his own hand in his house in Kusnach/Zurich in the year 1915" (Jung, 2009, folio p. 1). Shamdasani (2012) places Jung's Red Book in the tradition of William Blake's illuminated printing.
Jung combined poetic word and artistic imagery in the creation of the Liber Novus. Like the frontispiece of Blake's The Marriage of Heaven and Hell, we may appropriately characterize this first folio page as the frontispiece for Liber Primus and the whole Liber Novus.
- See more at: http://www.depthinsights.com/Depth-Insights-scholarly-ezine/frontispiece-for-liber-novus-biblical-texts-on-folio-page-one-of-the-red-book-bygerald-f-kegler/#sthash.REmvJ9ZB.dpuf