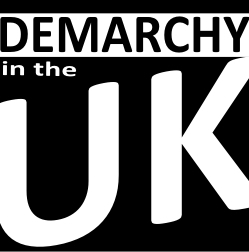 Join us on Facebook here!
https://www.facebook.com/demarchyintheuk
If you're sick of the same self-serving politicians looking after their own interests at our expense, join Demarchy! Demarchy calls for the sacking of all politicians, and campaigns for the abolition of party politics, to be replaced with a Demarchy in the UK, where real people have a real voice.

The problems this country faces could be resolved in a much fairer way by allowing the people of Great Britain to directly participate in the democracy of the country. The current electoral system promotes ambitious and self-centred people to high office. Only a certain type of personality thrives on the duplicity needed to advance a political career. Demarchy will give every citizen equal political opportunity, irrespective of their personality, gender, ethnicity, disability or belief. Like jury service, all citizens would be called at random to serve in the government for a fixed period of time. This is known as 'Demarchy'.

Demarchy involves periodically selecting a number of people at random from a cross-section of society to create a representative government based on the needs of the people, not just the rich and well-connected.

The more of us aware of Demarchy, the more people campaigning for it, the more chance we have of influencing the creation of Demarchic assemblies, maybe locally at first, then nationally - so we can take back our country bit by bit.

It's not going to be a quick fix and it's going to be difficult - but this is our solution. Please feel free to help build on it, to recommend improvements, but the ultimate result would be the removal of all politicians from office.

With the majority of the British people wanting such a change, we would have the right to remove the incumbents from parliament - and to replace them with a government by the people, for the people.