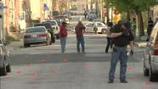 CHESTER, Pa. - April 28, 2013 (WPVI) -- An outburst of gunfire in a Chester neighborhood has left a teenage boy dead and three other people wounded.
It happened around 5:30 Saturday afternoon on the 1100 block of Upland Street.
Police say a house was riddled by gunfire and numerous shell casing covered the street within a two block area.