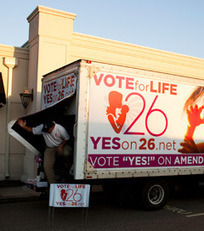 by: Sarah Seltzer, AlterNet | Op-Ed
Don't be fooled by the Limbaugh backlash. It's true that progressives and women's groups are fighting back with unprecedented vigor, and the campaigns against Komen, against Rush Limbaugh's sexist smears, against the Blunt Amendment, show that women can organize quickly and powerfully over social media. And yes, it remains crucial that the nasty sexism and racism emitting from the shock jock is finally getting its deserved public airing.
But extremist politicians haven't gotten the message yet: the policies that mirror and feed from Limbaugh's smears still exist, and may in fact be worsening. The GOP War on Women is in full throttle over a year since it kicked off, taking its toll in particular on the state level where recent data shows that all the posturing has dramatically changed living conditions for women--and not for the better.
Here are five ways the GOP are continuing their onslaught on women's rights that are crying out for the kind of intense pushback that we now know women's and reproductive justice advocates are capable of. [MORE]
Via
Lynda Park