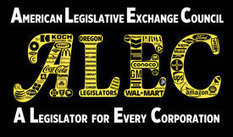 by Common Dreams Staff
Five corporations, Deere & Co., MillerCoors, CVS, Hewlett-Packard (HP) and Best Buy, are calling it quits with the American Legislative Exchange Council (ALEC), they announced Tuesday.
Michael Keegan, President of People For the American Way Foundation, welcomed the announcement, stating that "ALEC hurts Americans on a daily basis by promoting policies that suppress the vote, hurt working families, attack public education and destroy the environment." Noting that more and more companies are withdrawing their membership to the bill-factory, Keegan says that "ALEC's ability to push its dangerous agenda through our statehouses diminishes every day."
The Nation's John Nichols has described ALEC as "a critical arm of the right-wing network of policy shops that, with infusions of corporate cash, has evolved to shape American politics."
Other big corporations to have cut their ties to ALEC recently include the Coca-Cola Company, Kraft and Johnson & Johnson, among others.
"We want to thank these companies for making the right decision, and we continue to call on all major corporations to stop funding ALEC given its involvement in voter suppression and its work pushing policies designed to benefit rich and powerful corporations at the expense of people of color, workers, and the environment," said Rashad Robinson, Executive Director of ColorOfChange.org. [MORE]
Via
Eric Byler