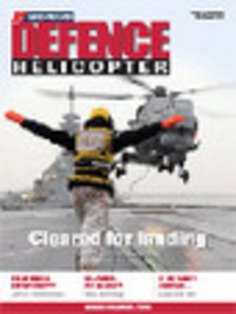 News
• AFSOC defends CV-22 following crash
• Italians prepare for Afghan NH90 deployment
• Kaman confident of ex-Australian Seasprite contract
• Scandinavian NH90 operators build experience, fleet numbers
Teutonic efficiency
The armed forces of Germany are facing a radical shake-up, with helicopter regiments the focus of efficiency drives. Defence Helicopter takes a close look at the changes.
Blades of glory
Carbon-fibre rotor blades offer improved structural and performance capabilities. Defence Helicopter finds out how composite materials are shaping helicopter design.
FACE value
The days of platform-specific avionics suites and physical refits could be numbered. Defence Helicopter faces the future.
Divide and conquer
With counter-cartel strategies high on the agenda, Mexico's military helicopter fleet is an integral component of both regular and special forces operations, Defence Helicopter reports.
Maxing out
New improvement programmes targeting engine efficiency and capabilities are being expedited by industry and governments in order to meet more demanding requirements. Defence Helicopter explores recent developments.
Making light work of it
Demanding service requirements are making heavy-lift helicopter manufacturers find innovative solutions to push the capability boundaries of their platforms. Defence Helicopter examines some of these big lifters.
If it ain't broke...
When it comes to replacing old and worn-out Mi-8/17s, many existing military operators are opting for new-build improved derivatives of this modern classic. Defence Helicopter visited Kazan Helicopters to find out why.
Tail Spin
Colonel Frank Best, commander of Helicopter Wing 64 of the German Air Force, describes how the reorientation of the Bundeswehr is affecting his command and what challenges his country's helicopter assets are facing.