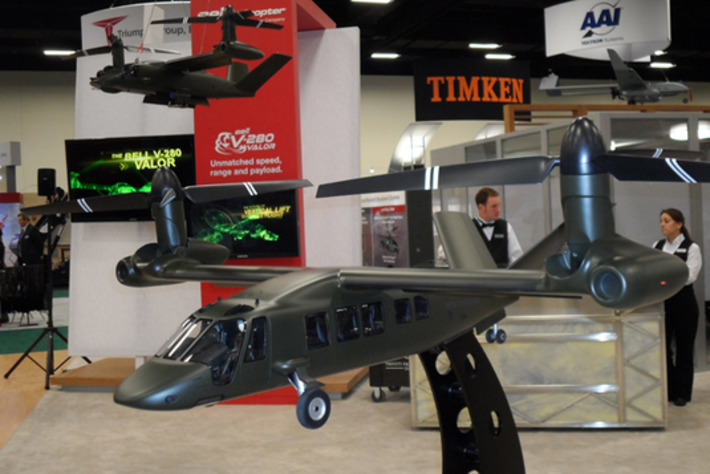 Bell Helicopter has introduced the V-280 Valor tiltrotor aircraft as its offering for the Joint Multi Role (JMR) technology demonstrator phase of the US Army's Future Vertical Lift (FVL) helicopter programme.
Launched during the Army Aviation Association of America's annual exhibition in Fort Worth on 10 April, the platform is a new concept aircraft that derives from the company's experience in developing the V-22 tiltrotor operational with the USAF and USMC.
'We believe the future of Future Vertical Lift is in the near, not distant, future,' John Garrison, CEO and president of Bell, said at the launch. 'The customer has been very clear in looking for speed, range, payload, reliability and survivability.'
The ultimate aim of the programme is to replace the Black Hawk utility and Apache attack aircraft, and the TD stage will see the development of the utility variant initially with the attack platform developed alongside it.
Despite the army specification requiring speeds of 230kts from the design, the V-280 is able to travel at speeds of 280kts. It also has a triple redundant fly-by-wire control system, can carry 11 passengers and two pilot/two crew chiefs, has an advanced rotor and drive system, non-rotating fixed engines, and a conventional retractable landing gear.
It also has 'army-centric' large side doors with outward facing seats, a differentiator to the V-22, which enables army personnel to deploy quickly.
The army is looking for scalability and commonality, which Bell believes it has demonstrated in designs starting from UAV-sized up to the V-22.
'This is combat-proven technology [demonstrated in] the V-22,' Garrison continued. 'We are absolutely confident about the scalability of this.'
However, he pointed out that it is a 'clean sheet design' and is being designed specifically for the mission needs of the army: 'It is designed to be the medium lift helicopter for this mission set.'
The company is currently developing a full-scale model of the aircraft, which it will roll out to the army by June/July this year, ending at the AUSA exhibition in October. The first flight of the utility variant is expected to be carried out 'early 2017'.
Garrison did not go into details about partners on the programme, although he said that an announcement is pending regarding this. 'We're being sought after pretty aggressively to partner at this time,' he said.
Boeing, Bell's partner on the V-22 aircraft, announced in March that it had teamed with Sikorsky for the TD phase of the programme.
Mitch Snyder, executive VP for military programmes at Bell, told Shephard that although the Sikorsky/Boeing team had flown its concept already, it is only a first generation design and therefore not as advanced as the Valor.
'The Bell-Boeing team is still very strong but the tiltrotor design is still Bell's,' Snyder reiterated.