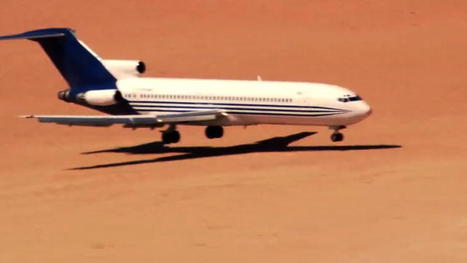 Watch my friend LCDR Leland "Chip" Shanle, Jr., CEO of Broken Wing LLC (http://brokenwing.tv/) and Naval Aviator/ Test Pilot , explaining this groundbreaking experiment:
DISCOVERY CHANNEL'S CURIOSITY SERIES GOES ON BOARD THE BIGGEST REMOTE CONTROLLED PLANE CRASH IN HISTORY
Episode Premieres Sunday, Oct. 7 at 9-11 p.m.ET/PT
(Los Angeles, Calif.) – Have you ever wondered what would happen if the plane you were on crashed? Does bracing really help or is it a myth? Where is the best place to sit? And fundamentally, are planes designed so that you could survive?
In the premiere episode of CURIOSITY, airing Sunday, Oct. 7 on Discovery Channel, an international team of experts will explore these questions by doing the unthinkable – deliberately crashing a full-size passenger airplane into the remote desert along the U.S.-Mexico border.
This groundbreaking experiment looks at what actually happens during a plane crash and the science behind passengers' best chance for survival. Crash test dummies as well as sensors throughout the plane will reveal just what types of forces are unleashed in a typical plane crash. Through video footage from inside the plane, viewers will see what happens during the moment of impact.
This experiment marks the first time an entire plane has been crash tested since 1984 when NASA attempted it with mixed results. With four years of meticulous planning, this latest attempt seems ready to take flight. However, a series of last minute obstacles prove that anything could potentially go fatally wrong.
Interviews opportunities are available upon request with the pilots, crew members and team of experts.
The episode will also be shown on Channel 4 in the UK plus Pro Sieben in Germany. To learn more, go to www.discovery.com, on Facebook at Facebook.com/discovery and on Twitter @Discover or @pilotPOV.