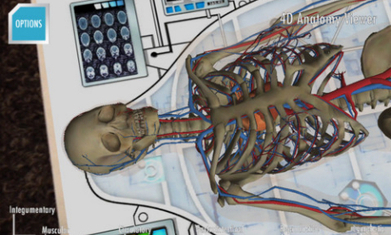 From human anatomy and Maxim cover-models to Sesame Street, tech giant says AR is more than a gimmick. By Stuart Dredge
-
The problem with augmented reality is its perception as digital gimmickry: a technology in search of a useful application that's often hijacked for novelty purposes.
AR can make cartoon monsters jump out of crisp packets or make tweets float in the air above the place they were posted from, but there's little evidence that people enjoy this half as much as brands looking for an easy PR win, or AR technologists.
The situation is improving, though. There are signs of AR having real potential for education, children's entertainment, interactive print and other areas; Nokia is making a big push with its LiveSight technology, and Google's Project Glass is attracting the futurists with its promise of less-clunky augmented eyewear.
AR has a prominent spot on Qualcomm's stand at Mobile World Congress courtesy of its Vuforia platform, which competes for the attention of app developers and brands with the likes of Aurasma and Blippar.