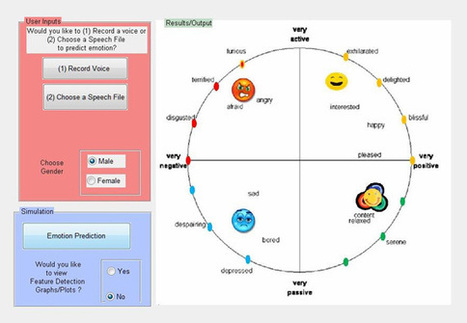 University of Rochester engineers have developed a computer program that gauges human feelings by analyzing 12 features of speech, such as pitch and volume, to identify one of six emotions from a sound recording with 81 percent accuracy.

The program has used to develop a prototype of an app that displays either a happy or sad face after it records and analyzes the user's voice. It was built by one of Heinzelman's graduate students, Na Yang, during a summer internship at Microsoft Research.

"The research is still in its early days," said Wendi Heinzelman, professor of electrical and computer engineering, "but it is easy to envision a more complex app that could use this technology for everything from adjusting the colors displayed on your mobile to playing music fitting to how you're feeling after recording your voice."

Rochester psychologist Melissa Sturge-Apple, who is using the program in research on parent-teen communication, explained that emotion affects the way people speak by altering the volume, pitch, and even the harmonics of their speech.
The researchers established 12 specific features in speech that were measured in each recording at short intervals. The researchers then categorized each of the recordings and used them to teach the computer program what "sad," "happy," "fearful," "disgusted," or "neutral" sound like