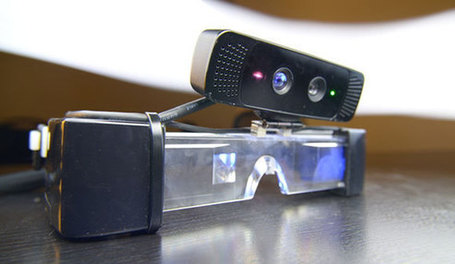 Startup hires 'cyborg' Mann for Google Glass–killer project
Register
Watch out, Sergey!-
Watch out, Sergey! A new startup is hard at work on a device that's far more ambitious than Google Glass, and it has just signed on wearable-computing maven Steve Mann as its chief scientist.
Meta, founded by Columbia University computer and neurological science student Meron Gribetz, has developed a prototype of a wearable device that Gribetz says goes beyond simple heads-up notification systems like Glass to become a full augmented-reality system.
"The entrance into consumer wearables needs to be a high powered immersive device capable of fully replacing the computer and more," Gribetz said in an emailed statement on Tuesday.
In short, Gribetz plans to deliver nothing less than the kind of 3D, gesture-based UIs seen in such Hollywood sci-fi fare as Iron Man, Minority Report, and Avatar.
Wearers of Meta specs will be able to see virtual 3D objects overlaying the real world, he says, and they will be able to grab and manipulate them with their bare hands, without the use of gesture-sensing gloves or similar hardware.
The current Meta prototype device is the product of two years of work by Gribetz and a team of augmented reality, wearable computing, and computer vision specialists, backed by seed funding from Y Combinator.