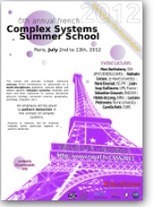 6th Annual French Complex Systems Summer School
"Pattern detection in Complex Systems"
Paris, July 2nd to 13th, 2012
The school will provide in-depth reference courses to a multi-disciplinary audience of researchers and students. The level of lectures will range from introductory to advanced, as attendees are not expected to be familiar with all the fields covered. Lecture topics will address specific complex systems methods and tools and their relevance to various disciplines (physics, biology, computer science, geography, sociology, linguistic, etc.). An emphasis will be given to pattern detection in complex systems.