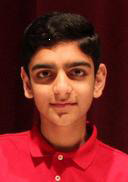 Oliver Dodd of Needham High School and Rahi Punjabi of Advanced Math and Science Academy Charter School are headed to the 2012 BIO International Convention BioGENEius Challenge! The talented science students won accolades for the projects they entered into the Massachusetts State Science & Engineering Fair in early May.
Rahi, a tenth-grader, took first-place honors at the state fair for his biology project, "The Role of Garlic in Attenuating Pseudomonas Infection." He concluded that garlic, in combination with tobramycin, could be a viable cystic fibrosis therapy.
Eleventh grader Oliver Dodd's project, "Cancer Growth Regulators," focused on an investigation of how naturally occurring proteins in platelets are released, and how the release may be altered to starve tumors. Like Rahi, Oliver won a first-place award at the Massachusetts State Science & Engineering Fair.
MSSEF worked with MassBioEd, a partner of the BioGENEius Challenge to recruit Massachusetts participants for the BioGENEius competition. Oliver and Rahi will join winners of other state science fairs for the US National BioGENEius Challenge on June 17th. Winners will go on to compete on the international level on the 18th. Best of luck to Oliver and Rahi!