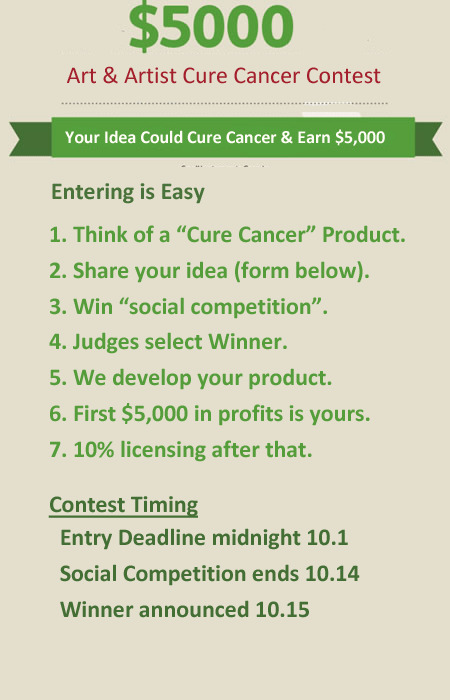 Your ideas, paintings, photographs, doodles and sticky notes could help cure cancer AND earn you $5,000. Most of my friends share for the joy of creating community, learning, coaching and teaching but a little reward every now and again keeps the mice looking for the cheese :).

Don't worry about being a "product designer". If you think a painting, Instagram or doodle you created could help cure cancer share it. You will be sharing with a 3 judge panel of product deveopment pros so they will figure out if your product idea has legs.

We are about to launch two MAJOR initiatives on 10.1:

CureCancerStarter.org - crowdfundig cancer research.
http://www.storyofcancer.org

CureCancerStore.org - shop to cure cancer.
http://www.curecancerstore.org

We need COOL STUFF to support both of these MAJOR launches so we are doing what we always do - ASKING FOR HELP. Not fair to ask for help and not pay back, so we've designed a contest that protects the intellectual property of people who share ideas, helps sure cancer and could pay a starving artist or designer a big check (another of our favorite "causes").

If you have ideas for products we should sell, put our logo on or develop please share them between now and October 5th and you may just be the first winner of our Art and Artists Cure Cancer Contest.

Fill out Entry Form
http://www.jotform.com//?formID=32498504611151

Form Is Also here: http://artistscurecancer.org/art-cures-cancer-contest/

Review Terms Here
http://artistscurecancer.org/art-cures-cancer-contest/