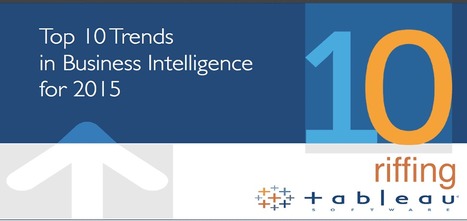 Riffing Tableau
I have great respect for Tableau Software. Solid team producing cool tools and the content needed to sell them. Their analysis of 2015 BI trends was so good I'm using it as a template to riff and add my thoughts.

Top 10 BI Trends 2015
1. Death of Gate Keepers.
2. Social Arbitrage Creates Competitive Advantage. !!!
3. Analysis Not JUST For Analysts Anymore.
4. Rise of the Sustainable Online Community (our #1).
5. Everything Integrates (BELIEVE).
6. Cloud Things is REAL.
7. Near Real Time DOMINATES.
8. Data & Journalism Finish MERGING.
9. Mobile Matures. !!!
10. Smart Analytics Begin.

http://www.curagami.com/featured/top-10-bi-trends-2015/
Team Curagami riffed the first 5 today and will finish up tomorrow. So much great content we had to STOP and think about it again tomorrow or melt down (lol).