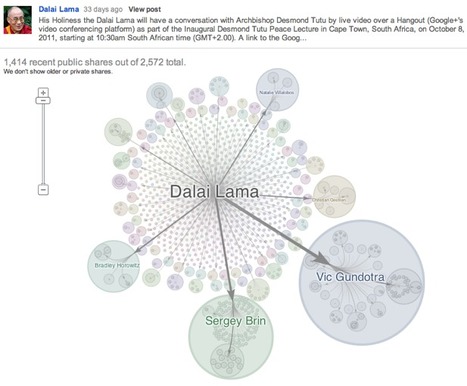 This is massivley COOL and TY again to Shirley Williams!!
Two weeks ago today, Google released "Ripples" for Google+ and most of the world went on with their daily activities. Personally I thought it was just another one of those features that was interesting but nothing I could really use. That was until this Whiteboard+ video which I filmed with Rand. Both Rand and I were blown away at the amount of data a Ripple gives you and what you can do with it.
What is a Ripple
The definition of a "ripple effect" is: a spreading effect or series of consequences caused by a single action or event. When it comes to Google+ a Ripple is an interactive diagram that shows how a Google+ post spreads as it's shared by users. You can find the Ripple of any public post using the dropdown to the right of the post...
Via
Martin Gysler
,
Shirley Williams (appearoo.com/ShirleyWilliams)