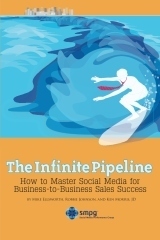 Many sales people, particularly in business-to-business categories, may think that social media is a consumer plaything and not well suited for use in business, and especially in sales.
Marty Note
Many sales people trip over thousand dollar bills to pick up nickels and dimes. Social Media Marketing (SMM) is sitting on the bench and watching as B2B companies continue their strange dance walking right by millions to work hard for much less. Pick up the money.

The good news is sales people are motivated by money. Good news because when leaders read Mike Ellsworth's The Infinite Pipeline they will make money and so influence other salespeople. Do you want to be the leader, or the follower?

Social Media Marketing is not HARD it is just new. The Infinite Pipeline is structured the way sales people think with specific case studies, plenty of examples and a 30, 60 and 90 day plan.
Mike's book walks and talks sales connecting sales best practices with specific instructions on how this new tool called Social Media Marketing can help achieve aggressive sales goals.
I will ask you a common sales If / Then question.
If I could help you make a million in sales by working a little differently, thinking a little differently and beating your competitors to the punch would you be interested?
What is that you say? What is the cost? Read a book, be open minded and smart, learn an easy to use new tool that does many of the things you already do just bigger and faster and stop tripping over the big money in favor of the small.
Buy The Infinite Pipeline. Learn Social Media Marketing. If, in 90 days, your sales aren't reaching new heights email or call me and I will be glad to brainstorm with you. How can I make such an offer? No one will call.
I started selling for P&G thirty years ago. I've been a social media marketer since 2008 and an Internet marketer since 1999. I know sales AND Social Media Marketing and no one will call because it is easy to use SMM to stop tripping over the big bucks in favor of the small.

Let me amend that last statement a tad. It is easy if to make money with SMM if you have the right guide and Mike and his team are the right guide. Buy the book, use the tool, pick up the money :).