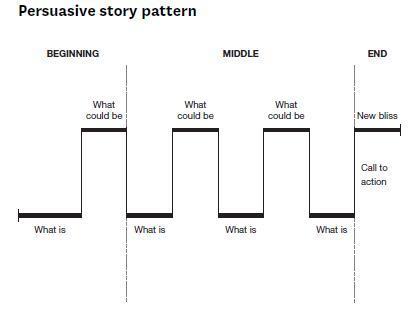 To win people over, create tension between the status quo and a better way.

Marty Note
Story, as I was reminded today discussing curing cancer with UNC's Cancer Center Head of Development and a great storyteller, is life. This article from the Harvard Business Review organizes what great presenters do with tension and release, tension and release.

Every story we love, watch and tell requires the same rhythm. Watch TV tonight and not the same pattern with tension into the commercial release immediate after. Read Story by McKee to learn how screenwriters create the same "story arc".

Here is how you use this idea in your website's design:

* Infinite Waterfall - tease links when conversion is exhausted.
* Consistent Images - write less, use more pictures and videos.
* Macro Themes - umbrella themes based on seasonality.
* Micro Themes - develop mini-stories within the macro.
* UGC - User Generated Content promotes and moves your story.

Does your website tell a great story? Share your URL and we wil share as a great storytelling URL.
Via
José Carlos