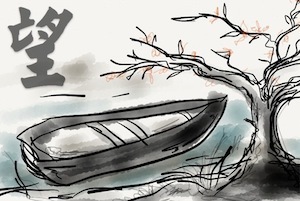 A parable about creating mass desire for your product, service, or idea.

Marty Note
This is a great story well told, but I'm not a big believer in "mass desire" as a marketing idea. I tend to side more with Seth Godin. Find your brand advocates and feed them, care for them and learn from them.

The role of copy, voice and tone in the Seth Godin hunt is crucial. Customers and brand advocates need validation throughout the process and the "buying cycle" is different than what we thought back in the day. The best explanation I've found of the new buying cycle is from David Edleman at McKinsey.
Edleman's new conversion funnel places as much emphasis on after the sale support as before. In an age of social media it is easy to see why after the sale (or convesion) support is equally as important as anything that happens before:

Branding In A Digital Age: You're Spending Your Money In All The Wrong Places
http://hbr.org/2010/12/branding-in-the-digital-age-youre-spending-your-money-in-all-the-wrong-places/ar/1
and

Aligning With The Consumer Decision Journey
http://hbr.org/web/ideas-in-practice/aligning-with-the-consumer-decision-journey
The parable's hero is misaligned with his market. I agree no amount of copy can make up for poor strategy, but I don't know anyone who would put such a load on copy either. I have another problem with most of my Internet marketing friends and our customers at Atlantic BT (http://www.atlanticbt.com) the web development company where I work.

Copy, for my IM friends and our customers, is either an afterthought or poorly constructed for the web. The web demands a different kind of writing one that splits the difference between search engine spiders and engaging people.
Great copy can't create a market, but it can sure lose one (a point made in the fable). Here are a few of the problems bad copy creates:

* Low traffic due to poor keyword density.
* Low returning traffic due to poor engagement.
* Low conversion because no one knows what to do.
* Low social shares because no one cares (and this impacts SEO).

You can read that list as the vicious rinse and repeat circle it is. My suggestion is get your strategy right, or as close to right as you can get, then go early and often until you are aligned, learn the new buying cycle from Edleman and never underestimate the power of great copy to help with all of it.