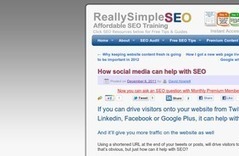 Your website's Google ranking could be helped with social media activity.
**** Some of the relationship described here is serendipty (i.e. what is popular on your Twitter is popular without clear cause and effect), but there are benefits to drive links from social to your digital stuff. People say the links are "no follow" links, but sizable people drink direclty from the Twitter and Facebook fire hose (the source not the RSS feed). Link juice moves to those sizable drinkers (online reputation management tool Radian6 is one example of a drinker).

What I know for sure is @ScentTrail popped a PageRank5 in 2 weeks. My ScentTrail Marketing blog recently moved froma PR2 to a PR3 and it has 300,000 words on it. My Tweets take much less time and are almost square the power of my blog, so I was an early believer in social (2008 or so) if for no other reason than its impact on search.
I wrote an article for @atlanticbt recently (Facebook The Most Important ROI) describing the other considerable TRUST benefits of social. Add TRUST plus PR and there is little question that social network marketing may be the most important marketing any team is doing (or not doing as the case may be).
The two ideas have become one thing in my thinking, a tapestry I think of as "social/search" mirroring Einstein's idea of the tapestry of space and time he called space/time. The reason I toss the big E in is the tapestry idea seems a helpful way to think of content networks. Content network marketing is a tapestry where every thread is connected in some way to every other thread. Thinking of social/search as a tapestry of connected points helps eliminate the "silver bullet" thinking that it is easy to fall into, ah if Internet marketing was only that easy (lol).
Marty