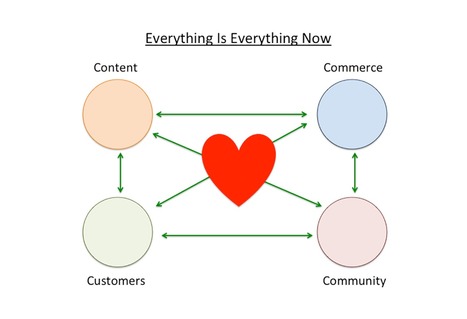 Thanks to FedEx
Sharing our Hero Marketing Haiku Deck last week with a group of Small to Medium Sized Businesses taught us how to tune the message. We noted how the TACTICS of competing with Amazon sparked real interest.

There are two components to competing with Amazon:

* 4Cs.
* Everything Is Everything.

Four Cs
Content, Customers, Commerce and Community are the four pillars of creating successful online marketing. The Uber-Goal is creating sustainable online community, or a community growing faster than its costs.

You create online community by curating more than you create and moving from US to WE. Content is how you signal customers your site, brands and company GET IT and want to create community.

You know you've created community when following increases, heuristic measures such as time on site, pages viewed and bounce rates improve and your site is getting closer to the magical 50% returning 50% new visitor mix.

Everything Is Everything
We've been struggling to explain how interconnected everything is these days. SEO, content marketing, content curation, email marketing, social media marketing and mobile marketing are working hand in glove now at increasingly faster pace. This more, faster, better loop means today's commerce is tomorrow's content, today's community is tomorrow's customer and round and round like a furious merry go round.

You win hearts, minds and loyalty today by understanding how to work the 4cs into a sustainable online community, a community of advocates wiling to sacrifice and support you, your brand and ideas.