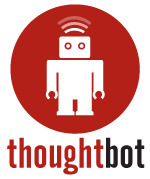 Designers and developers for hire
I LOVE Ideo the west coast design consultancy. I've always wanted to work with Ideo, but their price tag is out of reach. ThoughtBot is an interesting Ideo - like mashup of marketing, programming and design expertise.

CrowdFunde, our "power of the conversation" startup, is discussing using the new ThoughtBot Raleigh team to help with a 5 day product design sprint. We are so close to our idea it would be helpful to have outside perspective before we start writing code.

If you think of the elements of a successful startup, those things that must be balanced, according to Adam Schultz they are:

Money - Who is paying you and for what.

Market - Why are they paying you, what are the pain points you are helping resolve.

Product - What is the tool you are creating and is it aligned to what you've learned in the Money and Market investigations.

ThoughtBot creates a 5 day sprint where each day determines key product attributes from look and feel to functionality and the personas who will be using your better mousetrap.

CrowdFunde can afford to be complex inside the "black box" where algorithms create dashboards. CrowdFunde must be "falling off a log easy" to use, mobile first and with enough hooks we can figure how to expand its billable footprint as we go. We hope the team at http://www.thoughtbot.com can help.