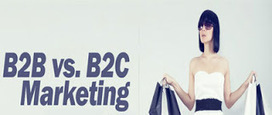 Myths Cost Internet Marketers Money
I'm not a big myth believer. As a former Director of Ecommerce and now Marketing Director for Raleigh's leading software and web development company Atlantic BT I tend to believe in metrics and experience.

When I left e-commerce to become a B2B marketer I heard a persistent myth - that B2B marketing was dramatically different than B2C. After two years this post argues there is NO DIFFERENCE between the core of B2B and B2C marketing.

Just FEELS different :).