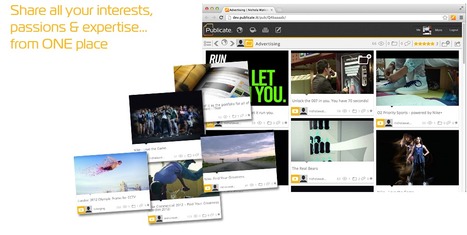 Robin Good's insight:
Publicate.it is a multimedia content curation platform, which allows you to collect and organize into visual collections your favorite content, images and video clips you find on the web.
You can easily include any content or web page by using the dedicated bookmarklet, or you can upload your own documents, images, video and pdf files.
All of the content you find and collect with Publicate.it can be easily shared and republished on any one of your favorite social media (Facebook, Google+, LinkedIn, StumbleUpon, Pinterest and Tumblr).

Publicate.it collections resemble Pinterest boards but with larger images and can be nested into other collections. In addition Publicate.it can also act as a social magazine front page as it allows you to pick and republish any content you want coming from Twitter.
Publicate pages are fully compatible with all types of devices and screens, from mobile to desktop.
Free to use.
More info: http://publicate.it/
Check this video: http://www.youtube.com/watch?v=mQabJkRAtSE
Via
Robin Good
,
RPattinson-Daily