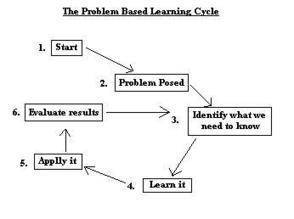 Project Based Learning or PBL as they refer to it is
" an instructional approach built upon authentic learning activities that engage student interest and motivation. These activities are designed to answer a question or solve a problem and generally reflect the types of learning and work people do in the everyday world outside the classroom." taken from PBL Online
(.p.)
Projects and activities are the keys to a better understanding of PBL. They are no longer tasks that students need to finish after a traditionally-taught unit but rather a set of learning experiences and tasks that guide students in inquiry toward answering a central question, solving a problem, or
meeting a challenge. Research has clearly proved that projects that are well-designed and based on students experiences improves students motivation to learn, help them see how school connects to the outside world by making learning relevant and meaningful, and promotes greater civic participation and global awareness.
(.p.)
As a teaching method, PBL is the best means for educators to meet the objectives of the 21st century education that can be abridged in the 4Cs equation ( critical thinking, communication, collaboration, and creativity).
(.links.)
if you want to learn more about PBL then here are some further links :