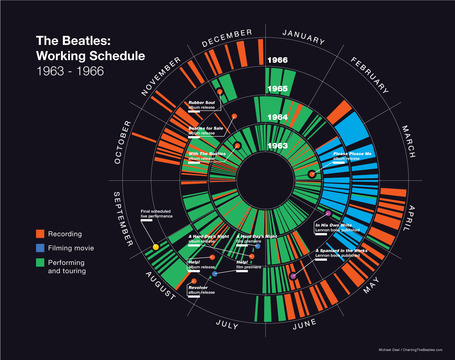 By Michael Deal ◊ http://bit.ly/xBWfjg
@dealville
Exploration of Beatles music through infographics (ongoing project)
These visualizations are part of an extensive study of the music of the Beatles.
Many of the diagrams and charts are based on secondary sources, including but not limited to sales statistics, biographies, recording session notes, sheet music, and raw audio readings.
Authorship and Collaboration
This graph (based on authorial attributions quantified by William J. Dowlding in the book Beatlesongs - http://amzn.to/AfqN1Y ) traces songwriting contributions within the band.
NOTES: Color patterns offer clues about the band's gradual fracturing as each member became more independent. Red stalks (signifying jointly written songs) decrease in the second half of the timeline; the split-color bars give way to solid bars of a single color. George Harrison also began to compose more music as he matured as a songwriter, signified by the increase in green bars (Lennon and McCartney's lack of support through Harrison's development is widely cited as a factor contributing to the band's eventual breakup).