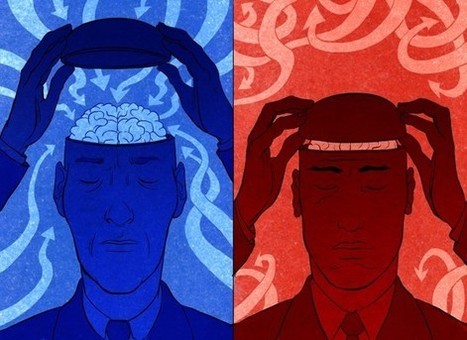 "Perhaps most important, liberals consistently score higher on a personality measure called "openness to experience," (...) That means liberals tend to be the kind of people who want to try new things, including new music, books, restaurants and vacation spots — and new ideas.
(...) Conservatives, in contrast, tend to be less open — less exploratory, less in need of change — and more "conscientious," a trait that indicates they appreciate order and structure in their lives. This gels nicely with the standard definition of conservatism as resistance to change. (...)
The "need for cognitive closure." This describes discomfort with uncertainty and a desire to resolve it into a firm belief. Someone with a high need for closure tends to seize on a piece of information that dispels doubt or ambiguity, and then freeze, refusing to consider new information. Those who have this trait can also be expected to spend less time processing information than those who are driven by different motivations, such as achieving accuracy.
A number of studies show that conservatives tend to have a greater need for closure than do liberals (...)
The trait is assessed based on responses to survey statements such as "I dislike questions which could be answered in many different ways" and "In most social conflicts, I can easily see which side is right and which is wrong." (…)
Anti-evolutionists have been found to score higher on the need for closure. And in the global-warming debate, tea party followers not only strongly deny the science but also tend to say that they "do not need any more information" about the issue. (...) We wield different facts, and hold them close, because we truly experience things differently. (…)"