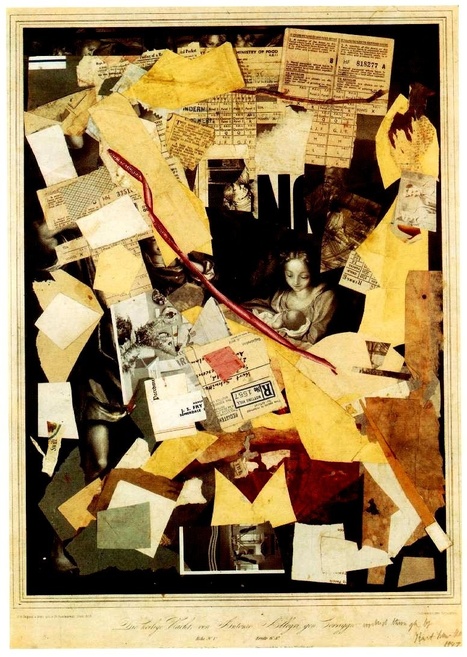 Everyone will have understood the not very funny joke in the title, that sprang to my mind as I was heading towards the old Tate to visit the only Schwitters exhibition of size in the last Many years in London and Europe. And frankly, as unproud of my joke as I was first, I vaguely remembered there were a few things in common between one of the founders of arte povera and Schwitters the neorealistic dada
Lots of people glancing through Buckingham's railings, as usual - guys, this Queen has not abdicated, it is the other one - but once at the Tate, the crowd vanishes. Is this some retaliation of the Brit people, giving the cold shoulder to this German artist, who died one day after having been given the Brit citizenship? Let's hope not
Let's focus half a second on the concept of Merz. It is quite funny, is it not, that this sort of artistic communism - every object on a painting has the same right as paint itself - was born out of an ad for the ancestor of Kommerzbank (which once used to own such a great art collection)
When entering the first room of the exhibition, it is something else that strikes me though: the very small size of the pieces shown here. And how similar to lots of other artists - Zeitgenossen oder nicht - Schwitters work looks: Kandinsky - with whom he shares a number of titles or rather the absence thereof, a less angry Villeglé, a young and depressed Mondrian, a remote and less Belgian cousin of Magritte, a less talented Nicolas de Staël
The second feeling that springs to mind is one about music: in a Baudelairian elan, I think about Boulez and Benjamin Britten. The only problem is that I do NOT like Boulez and Benjamin Britten. The only time when I found Boulez acceptable was when he wrote a piece to illustrate Staël's paintings - a remarkable joint display of which was shown, if I remember well, in the first exhibition of Pompidou-Metz. Arguably I did not attend Ropac's concert last week where Boulez was played though. Britten has always given me the impression of intense kakophonia... which I completely feel here too
I am however full of hopes for the second room...until I see the title: "flight to Norway and escape to Britain". What is it? Une classe d'histoire-geo? As though the place where he lived, I naively thought, had an influence on Schwitters work. Nothing true about it though, and Norway is clearly a better inspirer for theatre writers than for Merz-producers. See Hamsun, read Ibsen...
In room 2, I also learn something: there is worse than Schwitters collages and Merz: his landscapes and his paintings. I am looking at my fellow visitors. A young boy is scribbling under a vitrine. A middle-aged man is sitting, typing away what is probably a work email. People are silent but don't look impressed
Arguably the London years are slightly better: less gloomy, more colourful, words start to appear, meaning is becoming slightly less opaque - I can hear some of you taking offence: but who needs a meaning in art. Well, I do, at least when the aesthetic value of it does not spring out of the piece
Funnily, some kind of shaken - and stirred - music is being played in room 4. Like Isidore Isou's theories put in music. Would the curator share my parallel with broken music? Anyway, he / she felt obliged to show a dozen photos of Schwitters singing. Just in case we did not get it. No comment
The rest of the show is uneventful - as was the beginning. Contemporaries - on a blue wall not to mix them with Schwitters, hand-held sculputures - the best thing he did in the 40s, from his own confession. The final years show a pleasant increase in wit, when it comes to titles: "This was before HRH The Late Duke of Clarence and Avondale. Now it is a Merz picture. Sorry!". Despite, I believe it is clear by now, finding his work unaesthetic and easy, I can't manage not to find the character pleasant and charming. No idea why. A vague similarity with Eric Duyckaerts when Schwitters sings his Ursonate? His resilience with creation? His very personal but nevertheless real sense of geometry?
Welcome break, or last step though: the video and installation by Laure Prouvost. Undescribable but fifty fifth degree humour as I like it. And the room dedicated to Adam Chodzko - perhaps the best two things in the exhibition
As I exit, I resume toying with my initial idea of Brit retaliation against this German-turned-one day Brit: it is indeed what it was, otherwise, how can one explain this exhibition?
Schwitters in Britain, Tate Britain
Until 13 May 2013