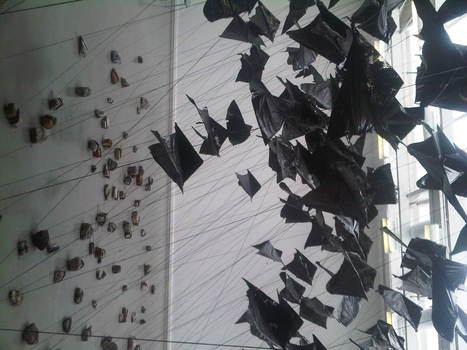 An exhibition on contemporary Mexican artists? Good, excellent idea, I thought
Entering, one is struck by a Shiharu Shiota-like attack of dusty kites, that I mistook for dustbin bags on ropes. Symbol of the rebels during the Mexican Independence War (1810-1821), the kites, in Arturo Hernandez Alcazar's installation, are as symbolic as some of the US symbols in Matthew Day-Jackson work. Next, Bayrol Jimenez' drawings - on the wall, the floor and papers - seems like a Toile de Jouy. Getting closer, one realises the extreme violence of the whole composition, which we have to cross to continue the visit. Hint at the US-Mexican border, and the complex relationships between the two countries?
This exhibition is extremely promising. A video by Alejandro Jodorowsky, shows La Marcha de las Calaveras organised in 2011 to allow fellow Mexicans to mourn their countrymates killed in the drug war. Some scenes look like abstracts from Scream, but why wouldn't they? Further up, one progresses towards Hector Zamora's credibility crisis - or a wind rose blowing air in multiple directions. A metaphor for the lack of decisiveness of governments in the current worldwide crisis?
Jorge Mendez Blake's El Castillo, showing a copy of Kafka's book imprisoned in a brick wall, itself sticking together without any sort of glue or cement, appears to me a representation of the true understanding of Kafka's work. Next, Ilan Liberman's Nino perdido creates almost the same feelings as the Children Memorial in Yad Vashem. The emotion has been growing in this exhibition - and is now at the highest. What a great idea! What a great team of curators! I want to fly to Mexico right now
Lighter, but probably only superficially, Jodorowsky (again) Tweets beam Kipling type of advice on a black wall. My favourite: "Ce qui est necessaire, un jour sera possible". I have now decided I want to meet Jodorowsky
Pushing us back in emotional territory, Nicolas Pereda's beautiful video Entrevista con la Tierra makes us reflect on our acceptance of death, showing how two Mexican children react to it. After crossing the black video room, Minerva Cuevas' Rio Bravo Crossing. Or a Mexican and politically engaged version of my dear Richard Long
Juan Pablo Macias reinvents the books. Printed on black sandpaper, these anarchists' books aim at destroying neighbouring books, and themselves, if put on a bookshelf. What an interesting idea!
There is too much left to talk about everything. Mariana Castillo Deball is pulling an Orozco. Jonathan Hernandez collages could help the next season of Lie to me. Marcela Armas' I-Machinarius stands half way between Delvoye's Machine a Caca and Kapoor's wax installation at the London Royal Academy two years ago. Loads of films and installations on the drug war and the political situation
The palm of third degree is awarded to Adriana Lara's Art Film I: Ever present, yet ignored, where teenagers comment a non-existing art exhibition. Witty at the highest, and in Italian!
Close to the exit, the Femur de elefante mexicano, piece of Jonathan Hernandez and Pablo Sigg, inspired by Marcel Broodthaers, asks the question: Comment peut-on etre un elephant mexicain?
One rarely hears about Mexican art outside Mexico. Of course, there is the Slim museum and a couple of fairs, but on average, Mexican contemporary seems less the flavour of the month than the Brazilian or Chinese / Indian / Pakistanese. Hopefully this will be rebalanced after this insightful exhibition
Resisting the Present, Mexico 2000-2012
Musée d'Art Moderne de la Ville de Paris, Paris
Until 8 July 2012