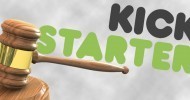 I was waiting for this to happen. However, don't let a single event turn you away from the great opportunity Crowdfunding has for startup entrepreneurs executing on their roadmap.
See: Startup checklist and project plan on fiverr. Just $5.
http://fiverr.com/bizgrowthcoach
----
3D Systems, a 3D printing company, announced on Tuesday it is suing Formlabs, a rival, and crowdfunding platform Kickstarter for patent infringement.