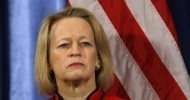 Oh great. Another year or two for equity-based crowdfunding in the US. I recommend rewards-based crowdfunding like IndieGogo, Kickstarter, etc.
Marty Koenig
CEO of CrowdfundEnergy
......
Mary Schapiro, chair of the Securities and Exchange Commission charged with drafting the new regulatory framework for crowdfunding, has just made public the news that she plans to step down next month.