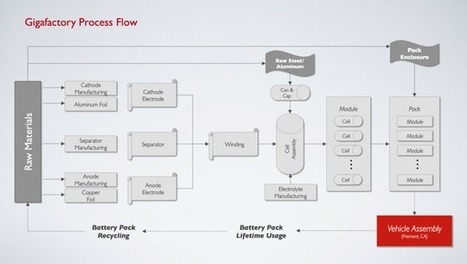 For Apple devices the computation is more complicated — and more speculative — because the company publicizes battery capacity (in watt-hours) rather than weight. But after some digging around, I found the weight information for an iPhone 4S on the iFixit site: 26 grams. From there, I estimated that the weight of the larger iPhone 5S battery is 30 grams.
I reasoned that the weight/capacity ratio is probably the same for all Apple batteries, so if a 26g iPhone battery provides 5.25 watt-hrs, the iPad Air battery that yields 32.4 watt-hrs must weigh approximately 160g. Sparing you the details of the mix of iPad minis and the approximations for the various Macs, we end up with these numbers for 2014 (I'm deliberately omitting the iPod):
100M iPads @ 130g = 13,000 tons
200M iPhones @ 30g = 6,000 tons
20M Macs @ 250g = 5,000 tons
Total Apple batteries = 24,000 metric tons
It's a rough estimate, but close enough for today's purpose: Apple and Tesla need about the same tonnage of batteries this year.