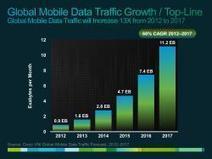 Nearly Half of All Cellular Traffic Will Be Off-loaded to Fixed or Wi-Fi Networks by 2017; 4G Expected to Support Nearly 10 Percent of All Mobile Connections by 2017
The expected steady increase in mobile traffic is partly due to continued strong growth in the number of mobile Internet connections (personal devices and machine-to-machine applications), which will exceed the world's population (United Nations estimates 7.6 billion) by 2017.
*An exabyte is a unit of information or computer storage equal to one quintillion bytes.
The forecast's annual run rate of 134 exabytes of mobile data traffic is equivalent to:
134 times all the Internet Protocol traffic (fixed and mobile) generated in the year 2000, or30 trillion images (e.g., via MMS or Instagram) — 10 images daily from each person on earth for one year, or3 trillion video clips (e.g., YouTube) — one video clip daily from each person on earth over one year.
The projected 2012 to 2017 global mobile data traffic increase represents a compound annual growth rate of 66 percent. The incremental amount of traffic being added to the mobile Internet just between 2016 and 2017 is 3.7 exabytes per month, which is more than four times the estimated size of the entire mobile Internet in 2012 (885 petabytes per month).
During the 2012 to 2017 forecast period, Cisco anticipates that global mobile data traffic will outpace global fixed data traffic by a factor of three. The following major trends are driving global mobile data traffic growth:
More mobile users: By 2017, there will be 5.2 billion mobile users (up from 4.3 billion in 2012).More mobile connections: By 2017, there will be more than 10 billion mobile devices/connections, including more than 1.7 billion M2M connections (up from 7 billion total mobile devices and M2M connections in 2012).Faster mobile speeds: Average global mobile network speeds will increase seven-fold from 2012 (0.5 Mbps) to 2017 (3.9 Mbps).More mobile video: By 2017, mobile video will represent 66 percent of global mobile data traffic (up from 51 percent in 2012).