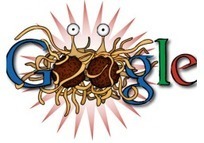 Interesting history with an uncertain conclusion

"1998: Ken files a patent that classified how search results and ad results are sorted based on the number of click-thrus an ad gets. He sells the company to Lycos for $40 million. Ken Lang becomes CTO of Lycos and they take over his patents.
$40 million! What? And then Lycos stock skyrockets up. I can't believe it. I'm happy for my friend but also incredibly jealous although later in 1998 I sell my first company as well. Still, I wanted to be the only one I knew who made money. I didn't think it was fun when other people I knew made money. And, anyway, weren't search engines dead? I mean,what was even the business model?
Fast forward: the 2000s. Almost every search engine dies. Excite, Lycos, Altavista. Before that "the world wide web worm". Lycos got bought by a Spanish company, then a Korean company, then an Indian company. To be honest, I don't even know who owns it now. It has a breathing tube and a feeding tube. Somehow, in a complete coma, it is being kept alive.
One search engine, a little company called Google, figured out how to make money."