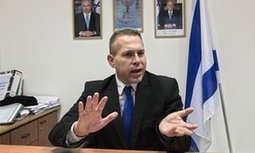 "Facebook delegation is in Israel as the government pushes legislative steps to force social networks to rein in content that officials say incites violence"
...
"The Palestinians dismiss the Israeli allegations that the violence is caused by incitement. They say it is the result of nearly 50 years of Israeli military occupation and a lack of hope for gaining independence.
Digital rights groups have charged that such legislation is unlikely to be enforceable and say the laws are used as a pressure tactic to prompt Facebook to monitor users' content. The groups warn of a slippery slope to censorship. "