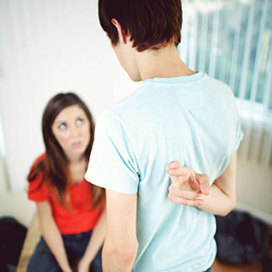 Lying less may be associated with significant benefits to both our physical and mental health, according to a recent study presented at the American Psychological Association's 120th Annual Conference.
During the conference, researchers from the University of Notre Dame presented an "honesty experiment" which measured whether or not telling lies could have adverse effects on our health. The study lasted 10 weeks and included 110 participants. Half of the group was instructed to avoid telling any major or white lies throughout the 10 week time frame. The other half of the group received no special instructions.
Each participant came in every week to complete health and relationship measurements, as well as use a polygraph to assess how many lies were told throughout the week.
It was discovered in both groups that individuals who reported less lying showed fewer mental health complaints (such as anxiety or sadness) and also fewer physical health complaints (such as sore throats or headaches).
This effect was particularly strong in the "no lie" group, who were overall more truthful than the control group.
In addition, researchers found that individuals who were more honest reported improvements in their close personal relationships and that their overall social interactions went more smoothly that week.
Via
Jim Manske