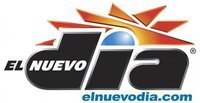 BY ELNUEVODIA.COM
A residential community leader from Our Lady of Covadonga, in Trujillo Alto, acknowledged today that the detonations heard in a home video released by social networking Year's Eve out of the community itself.
However, it claimed that the bullets fired that night during the farewell of 2011 are blanks that are being used to film a movie in the residential.
Weeping, Maria Rodriguez, who identified herself as vice president of Residential Community Board went further and challenged the police superintendent to go to the neighborhood and see what they are doing "the boys" in Covadonga, a sector which she said has been forgotten by the government..